Instruction of manual trolley
Manual trolley can be hung on the regular I-sheet in various types of small-scale cranes or the installation.
With the chain,it can be composed on bridge type, single beam or cantilever crane.Hand pushing car widely applicable to factories, mines, docks, warehouses, construction sites, such as hand pushing car used to install the machinery, equipment, lifting goods, hand pushing car is especially suitable for no power site operation.
Mix and from the intact hoisting machinery with the chain block.
Steady construction easy to install,safe operate,conveniently maintenance .it is convenient to adjust the distance between wheels and it is suitable to various"I" sharp steels.High effect transmission lower force to pull the chain
Features:
1. Easily adjustable to fit a wide range of beam widths.
2. Adjustable to fit a wide range of beam profiles
3. Excellent rolling features due to machined steel wheels mounted on prefabricated, encapsulated ball bearings
4. Standard anti-tilt and anti-drop devices.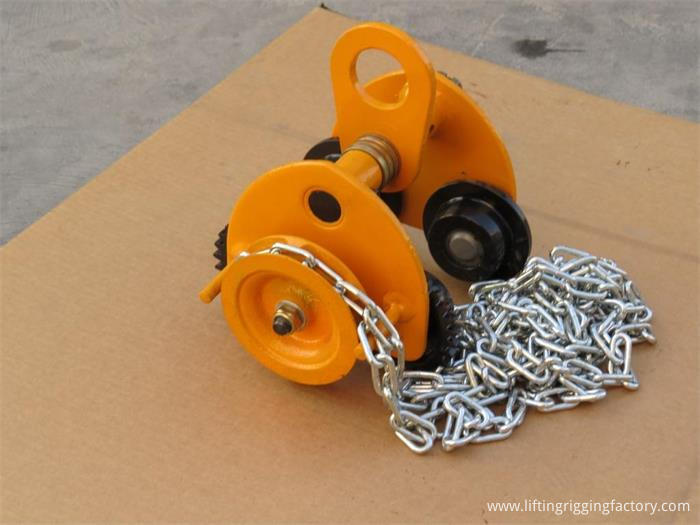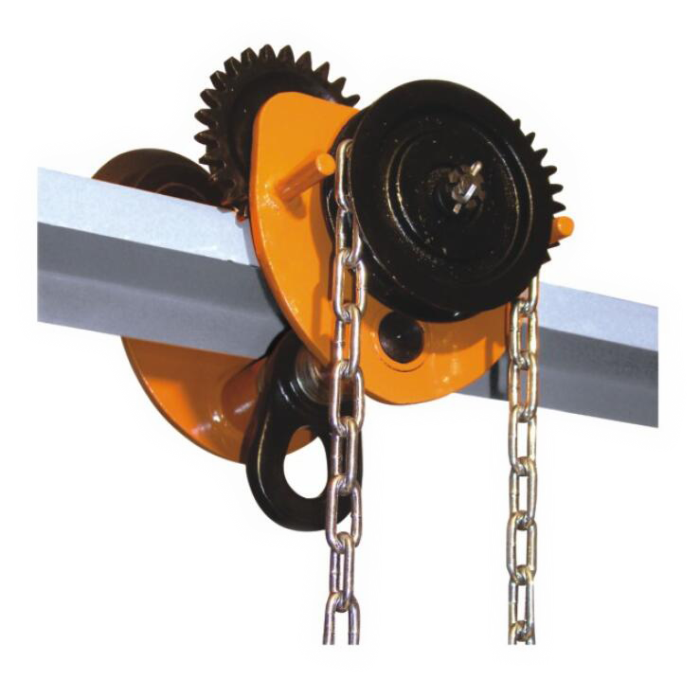 Features
1. Adjustable to any beam width, simply by adjusting the number of collars.
2. The wheels are made to fit any shape of beam
3. High grade sealed ball bearings.
4. With anti-drop plates.
5. For gear trolley, the standard operating length is 3m, other length is available upon request.
Our Services
1.Client
We treasure and try to understand all the different needs of our clients and seek to forge a long term professional relationship with them. The satisfaction of each and every customer is our main goal and motivation in conducting our business.
2. People
We work as a team and treat each other with respect. Our solid, capable and knowledgeable team is valued as the greatest asset and an integral part of the business.
3. Product
Our products are of HIGH quality standards and always come with certificate of compliance by the manufacturers.
4. Performance
We aim to achieve high level of performance and satisfaction to both our client and people, which include delivering high quality services and treating people with integrity.
5. Free sample and OEM service
We can provide free samples to you and we also have OEM service, we can put your logo on the label and the information you need on the webbing too.